In this post we learn how to make a powerful LED flashlight using a stepper motor and a few capacitors, and use it to create awesome light simply by a few hand cranks on the motor.
Each stepper motor is actually a handy dynamo. In comparison to other power generators, the stepper motor produces substantial induction voltages even from reduced rates of speed.
The kind applied here, that has a DC resistance of 2 * 60 Ohm per coil, it could be employed with no transmission using a basic rotation with the hand to produce in excess of 20 V. What exactly is more detailed than the building of a little flashlight.
A surplus circuit guarantees electricity storage. A couple of four-way rectifiers each having 4 diodes 1N4148 charge an electro with approx. 4700 μF (2 * 2200 μF had been utilized in parallel within this model).
The super-bright LED is usually switched by using a series resistor of 390 Ohm (extremely bright) or 22 K (long storage time).
The consumer should be capable of controlling anything while rotating this stepper motor generator: In the switch position "light", the allowable optimum current of 20 mA could be surpassed. In the "long" situation, the allowable voltage of the electrolytic capacitors will be, for instance, 16 V.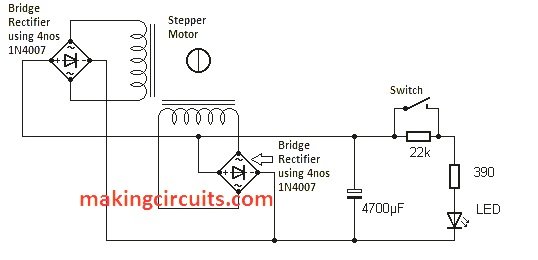 The light of the lamp is sufficient to view distinctly at nighttime.
Additionally it is light source adequate for photography. These devices is as a result ideal for spies, criminals as well as youngsters who would like to study privately between the sheets.
However the stepper motor LED light flashlight, generator, must also be kept ready for your next emergency short-circuit situation within the house basement.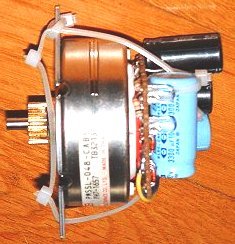 The DC resistance is 10 Ohm, the idle voltage approximately. 4 ... 5 V. A number of parallel electrolytic capacitors having a overall of approx. 12000 μF supply a couple of extremely bright LEDs via a series resistor of 33 Ohm. The lamp will probably remain illuminated for around 20 seconds.
The motors coming from DC fans of the dimensions 80x80 to 120x120 mm may also be used easily, along with voltages of 12 - 24 V. For any basic lighting effects game, it really is enough to switch a number of LEDs antiparallel with each coil.
This presents a good LED light effect from the stepper generator, whose illumination and frequency will be acceleration primarily based.