In this post we learn how to make a decorative LED music level indicator or music activated LED lights using a single IC and we also learn the main datasheet and specifications of this particular IC for making the proposed LED VU meter music level indicator.
The BA61 24 is actually a monolithic integrated circuit which involves a VU level meter driver designed to work with radio cassette tape recorders and other audio products' it is additionally efficient at driving 5 LEDs to create a bar- type showcase of input level within the range -10dB~+6dB.
The inner circuitry utilizes rectifying amplifiers, therefore permitting direct input of AC signals in supplement to reducing disparities in LED drive current with regard to supply voltage definite changes, hence enabling direct LED drive.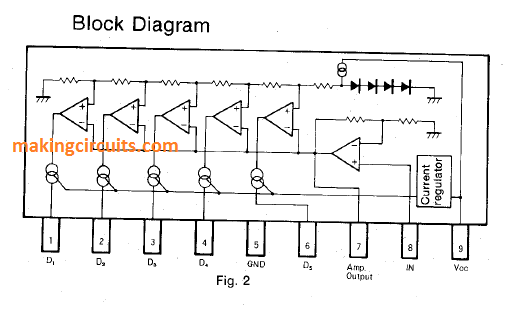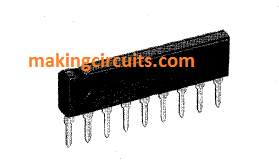 Characteristics
1, Rectitying amplifiers are accustomed to enable direct AC or DC signal inputs,
2. LED drive current is regulated to eradicate changes in LED current with regard to supply voltage fluctuations
3. The reference voltage is established inside the body to get rid of output display up/downs with disparities of supply voltage.
4. Broad supply voltage spectrum (3.5 ~ l 6\/) allows numerous applications.
5. Encased in a 9-pin SIP package and demands handful of outside the body attached parts, hence lessening PC board space.
Within this project we will discover steps to make LED indicators in order to connect to our audio equipment, computer, or a microphone could be incorporated to light the LEDs together with the audio in our bedroom.
Very first for these projects I am going to demonstrate most typical integrated circuits as well as how to hook up these.
Some integrated circuits are usually popular such as BA6124, KA2284, which can be similar to NTE1561.
Interconnection schematic diagram of BA6124 or equivalent: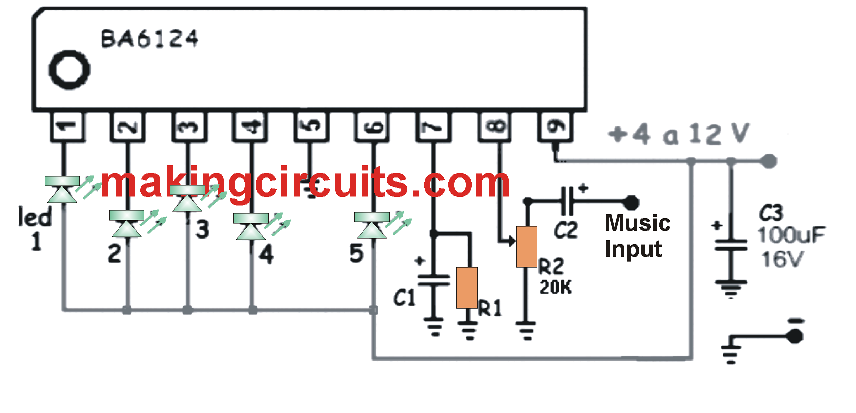 This integrated circuit can easily function from something lower than 4 volts to 16 volts. R1 could be from 10K to 20K, C1 from 2 to 10 MicroFarads. R2 is a variable resistance of 20K, it could be employed from 10K to 50K. The LED that will light initially may be the one attached to pin 1. The LEDs are hooked up with no resistance since the integrated circuit features a current limiter to each output (roughly 15 mA).
Connection Pictorial drawing of LED Music Level Indicator Circuit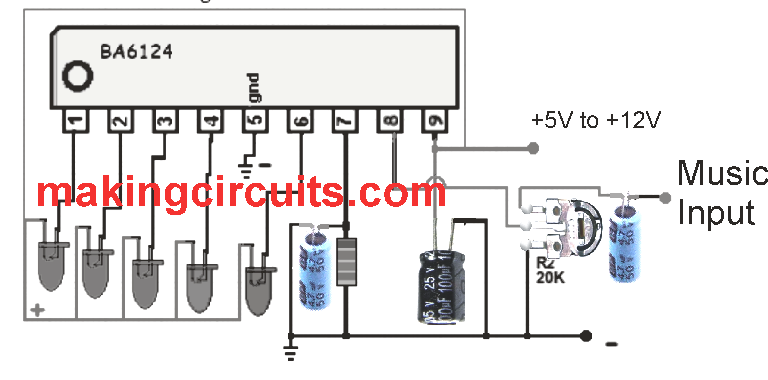 When it is used to decorate, 2 LEDs may be used for every output or more, it appears exactly like the ones from 10 LEDs which are less prevalent. The LEDs are attached in series: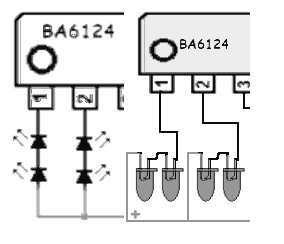 Audio meter with LEDs in series Vu drawing with LEDs in series
Additionally you can include a preamp and microphone to illuminate the background audio.
Music Level Indicator with preamplifier circuit and an electret microphone:
R1 could be from 3.3k in 6 volts to 6.8k in 12 volts. C1 could be 0.1 microFarad or higher. Mic is an electronic microphone (Electret Mic) Q1 can be an audio transistor, it's rather a C945, C458 or equivalent. C3 is .001 microfarads, if you wish to highlight the bass sounds it could be increased. R3 could be 330K in 6 volts, up to 1M in 12 Volts. R4 is actually 10k, it could be under 6 volts. R5 is 1000 ohms (1K) C2 and R2 are part of the BA6124 light control circuit. Along with R2 we fine-tune the level in which the LEDs move with the finest output together with the audio.
With all the values ​​of the illustration in the next drawing it could work nicely from 6 to 12 volts as shown below:
This integrated circuit is very easy and it has absolutely no adjusting pins, within a standard approach it may not be joined in series and is built to determine music levels, and this is the reason why it is logarithmic.
The first LED is lighted at -10dB, the second at -5dB, the third at 0dB (50mv), the fourth led at 3db and the fifth led at 6dB. For computing equipment (volt-to-volt indicator, etc.) Linear integrated circuits are utilized.
Additionally, there are integrated circuits on which you are able to modify the reference voltage and therefore link up several in series.
The very best kinds which i used are definitely the LM3914 similar to the NTE1508 (Linear), and the LM3915 similar to the NTE1509 (Logarithmic) furthermore the LM3916 that is certainly similar to the NTE1949 (Logarithmic).
They can be of 10 outputs for LEDs and will be tweaked in lots of ways, for instance that the LEDs grow one by one, etc.
If you have any more questions regarding this simple 5 LED music level indicator using a single IC, you can consult through the comment box...happy DIYing