The proposed circuit can be used to alter the speed of one or more celing fans or bulbs up to a maximum power of 1000 watts by changing the volume of power applied from the load itself.
The adjustment calibration is incredibly constant and steady on account of an exclusive polarization circuit which lowers the annoying effect of hysteresis found in just about all electronic fan regulators
to practically zero .
The circuit comes with a unique LC filter that significantly decreases the diffusion of RF interfernce.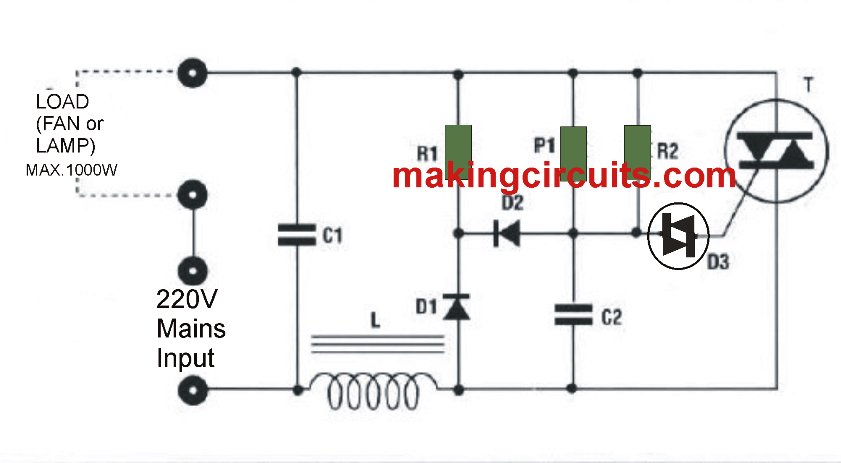 It is additionally advised never to make an effort to employ this fan regulator circuit with fluorescents lamps.
It is preferable if you make use of the circuit with optimum power, to place a heat sink on the TRIAC T1 in order to lengthen the life of the circuit.
Parts list for this simple yet very efficient fan regulator circuit
All resistors are 1/4 watt 5% rated unless otherwise mentioned
opposite.
Rl = 33K
R2 = 560K
Pl = 220Kohms.
CI = 0.1 μF 400 V.
C2 = 0.33 yF 100 V.
D1-1N4007
D2-1N4007
D3 = Diac DB-3
LI = Coil on ferrite
Fl = Ferrite 8 X 50mm
T1 = TRIAC 400V8A.
WARNING ! CIRCUIT WORKS WITH 230 VOLT. HANDLE WITH UTMOST CAUTION !
PCB Layout for the above explained simple 220V fan regulator circuit