This converter circuit can be used to get 6 V output from a 12 V supply source.
The most frequent application for this form of converter is when portable cassette recorders need to be used in the car.
Quite a few of these need a supply voltase of between 5. ..8 volts.
Most effective and quite a few apparent option would be to make use of an integrated voltage regulator.
Besides using 6 volt kinds including the 7806, additionally it is feasible to utilize a 5 volt version (7805 of LM 309) and enhance its output voltage which includes two diodes in the frequent lead as displayed in the circuit diagram.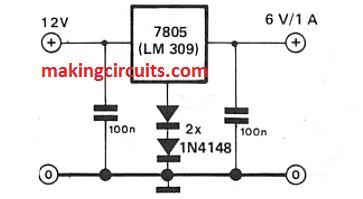 According to the kind of diodes applied, this will likely create an output voltage among 6 V and 6.5 V.
The maximum output current of the types mentioned is 1 A.
It is essential to make sure that the regulator is completely cooled by means of a suitable heatsink.
Combined radio/cassette players frequently need a a little bit higher voltage of 7.5 V.
In this situation, possibly the 7808 works extremely well, or maybe the 7805 along with four diodes in series with the common lead.