This magnetic proximity switch circuit can be used to switch a load ON/OFF when a magnetic field is detected.
How the Circuit Functions
The Magnetic Proximity Switch Circuit is based on a magnetic reed switch(S1) as being the proximity sensor.
A monostable multivibrator calculated on NE555 (IC1) and a toggle flip flop in line with CD4013 (IC2) performs the remaining of the circuit.
Any time a magnet is reached in neighborhood of S1 it slides to provide a negative prompt at pin 2 of IC1.
The output of IC1 turns out high for a period of time established by R2 and C2.
This clocks the IC2 connected as a toggle flip flop.The output (pin 1) of IC2 moves high while the transistor Q1 is biased to ON.
The relay is initialized therefore do the devices attached to the relay.
The LED D1 glows each time IC1 is turned on.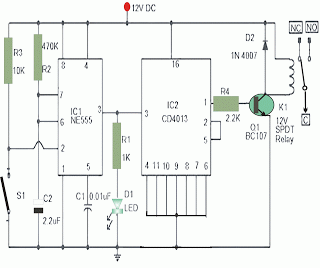 Remarks for the proposed Magnetic Proximity Switch Circuit
Switch S1 is usually a general purpose magnetic reed switch.
The devices to regulate could be hooked up employing NC,NO and C points of the relay as emphasized by the utility.
Work with a twelve regulated power source for operating the circuit.