The post explains a high efficiency and versatile IC 555 based light dimmer circuit which works by phase control through zero crossing, thus eliminating noise and other issues associated with conventional light dimmers at 220V
The conventional dimmers employ a silicon-controlled rectifier like a triac or thyristor which is activated at preset phase angle and conducts until the next zero crossings of the mains voltage.
Although this method is simple, regulating small or inductive loads becomes a problem.
With the circuit in the discussion, the above problem is alleviated by introducing the triac with constant gate current so that power as low as 1 watt can be regulated.
To ensure the zero crossing light dimmer circuit is small, simple and compact, a 555-timer chip is utilized.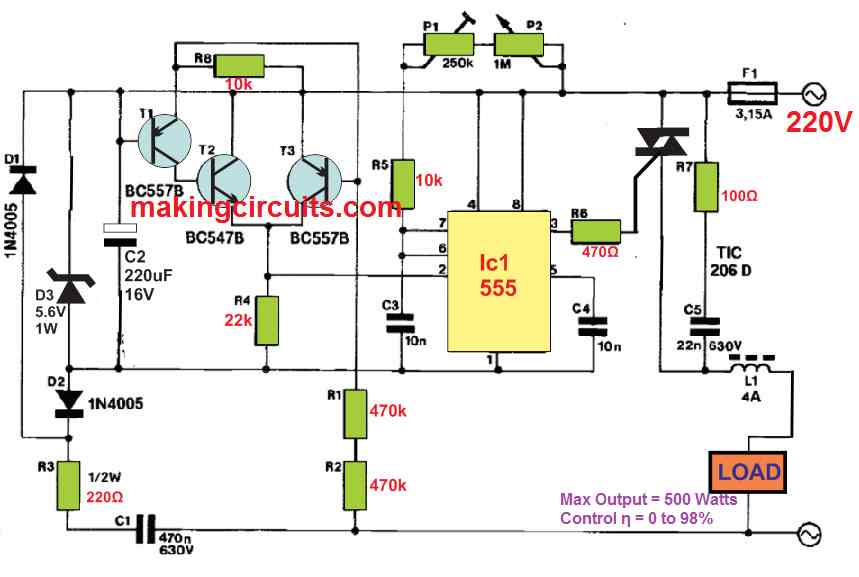 How the Circuit Works
The standard active high of the 555 output is converted to active low using a negative supply voltage. This inverted power supply consists of a C1-R3 network, rectifiers D1 and D2, and a stabilizer D3-C2.
An initiation pulse is contributed by transistors T1 to T3 at the trigger input of the 555-timer chip during the zero crossing positions of the mains voltage. For an interval dictated by the setting of P1 and P2, the output of the timer is high.
Consequently, there is no voltage difference between pins 3 and 8 or in other words, the triac is switched off. Once the set interval has lapsed, pin 3 drops to low and as a consequent, the triac is activated.
A gate current flows for the remainder of the half period and ensures the triac is conducting. The minimum position (can be checked with a light bulb just before lighting) can be set with P1.
For the essential decoupling of the triac, filter in network R7-C5-L1 takes care of it. We also remind you to be observant as the maximum power that can be controlled using IC 555 zero crossing light dimmer circuit is 600 watts.